The Madd Hatta is a twenty-year radio icon in the nation's 4th largest city – Houston. Madd Hatta is the morning show host at Houston's hip hop hit maker, KBXX 97.9 The Box. The Madd Hatta Morning Show is consistently ranked in the Top 5 among Houston's Morning Drive shows in Houston. A graduate of North Carolina A&T State University, he has given his time to many community causes and organizations including The Boys & Girls Club, HIV Awareness, Coca Cola's "Share the Dream" and his own initiatives Hatta's 100 and Hatta's Elves.
Never forgetting his roots; his passion for entertaining, educating and serving his audience are the backdrop of every broadcast. In 2008, while hurricane Ike bolted for the Houston skyline, The Madd Hatta stayed behind and remained "the voice of calm" with vital information and support for the community. Just a few months later, he single handedly registered 5,000 people to vote for the historic Presidential election during a 90 hour live on-air voter drive. Madd Hatta's hip-hop label, Paid in Full Entertainment, spawned the successful rap group, Paul Wall & Chamillionaire, both are platinum selling artists.
The Madd Hatta is also a product of his label with several albums behind his name including his 2007 project titled "Still Standing". His gospel label, Soulmuzick, has achieved success with its artist, Houston native, Shei Atkins. Madd Hatta is also a renowned DJ mixer and can be heard on Friday evenings on sister station KMJQ-FM during "Club Majic" mixing hip-hop, old school, funk and soul (Rated #1 Adults 25-54). The Madd Hatta has been nominated for the prestigious Marconi Award and Billboard's personality of the year. In 2013, Madd Hatta was inducted into the Texas Radio Hall of Fame.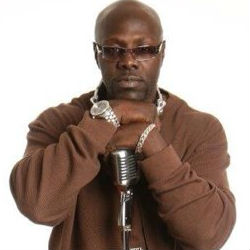 Sat | 7p – 9p
---