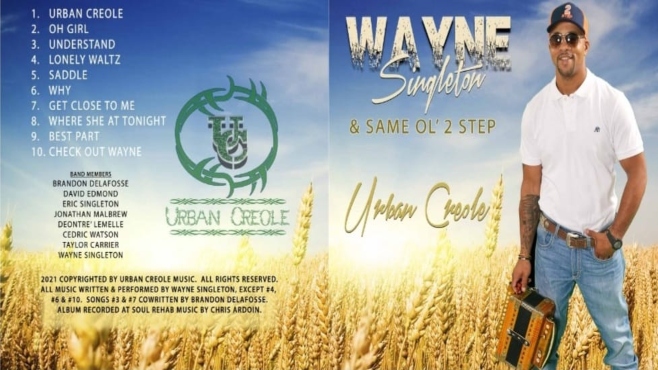 Wayne Singleton is one of the hardest working men in Zydeco. Husband, Father, Musician, Farmer, Bus Driver, Barber, Mechanic, a jack of all trades. He is always busy. When the pandemic shut down live entertainment, Wayne was busy rediscovering family time and recording new music. The result is Urban Creole. This is the follow up to Built Creole Tough.
Urban Creole was recorded at Soul Rehab Studio by Chris Ardoin. It also features songs 10 slamming tracks that will have you dancing. Wayne says one of his personal favorites is his take on the R&B classic done by the Chi-lites "Oh Girl". He also does his version of Daniel Caesar's Best Part. Check it out and pick your favorite track.
My personal favorites are "Understand" and "Where she at tonight".
Urban Creole is available now on all the streaming music platforms. Cds are available for sale from Wayne and at the live shows. Same OL'2 Step recently kicked off the Urban Creole Tour in Nashville. Now that live music has returned, dance with Wayne Singleton & Same OL' 2 Step at venue near you and add Urban Creole to your Zydeco Music Collection.