His career began when he took a leap of faith to leave his job driving trains in Chicago to self-publish his book and began touring the country selling books out of the trunk of his car. Through the power of his sheer determination Michael carved a unique niche as a speaker, radio personality, and social activist. He is always in the lead when it comes to helping those who don't have a voice. "I'm not one for just talking, either do something or get out of the way!"
According to Simon & Schuster, Michael Baisden is "probably the most successful self-published African American male author out there today." With nearly 2 million books in print both hard and soft cover, his books blend the perfect combination of entertainment, humor, provocation and sexuality. Michael's vibrant personality has made him a people magnet.
He began attracting attention with primarily female followers as author and publisher of the highly successful best selling books: "Nver Satisfied: How And Why Men Cheat", "Men Cry in the Dark", "The Maintenance Man Part 1 and 2", "God's Gift to Women" and most recently a his hot new book "Raise Your Hands If You Have Issues"
Two of his titles ultimately were adapted into stage plays playing to sold out crowds across the US.
In 2009 Baisden spearheaded the Jena 6 March and ask the country to wear black. He was credited by President Obama and his staff for being one of the most influential voices in his 2008 Campaign for President.
And in 2010 Michael pledged $350,000 of his own money to be donated in over 72 markets he would visit on a bus tour. The outreach was named "One Million Mentors National Campaign To Save Our Kids."
In 2013, Michael was the first and loudest voice to demand justice in the Trayvon Marton shooting.
2012 kicked off with the announcement of a partnership with Michael, Big Brothers Big Sisters of America and African American Fraternities for the Mentoring Brothers Campaign to recruit more Black mentors for Black boys.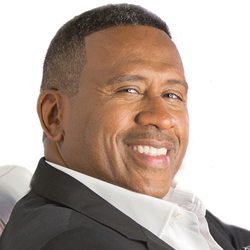 Mon-Fri | 6p-10p
855-962-7469
---