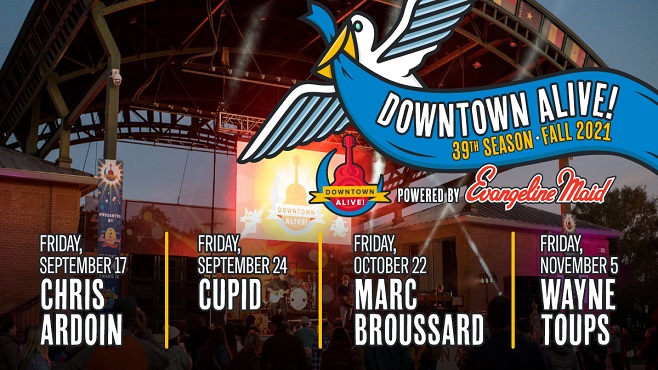 Downtown Alive is returning this fall for it's 39th year of bringing live music to Lafayette. And it is finally back as an outdoor in-person concert. For the last year, shows were switched to virtual online events because of the uncertainty surrounding the pandemic. Organizers are now excited to bring the Friday night music and food back to the downtown area. Remember when the show starts, be sure to keep ice chests and pets at home. Food and drinks will be sold at the show.
Fall 2021 DTA! Lineup
All shows take place in Parc International. Happiest Hour begins at 5:30 p.m. with music kicking off at 6:00 p.m. until 9:00 p.m.
Friday, September 17
Chris Ardoin (Zydeco at Parc International)
Friday, September 24
Cupid (R&B/Hip-Hop at Parc International)
Friday, October 22*
Marc Broussard (Rock-n-Roll at Parc International)
*In conjunction with the 2021 Gumbo Cookoff, hosted by the REALTOR® Association of Acadiana (RAA)
Friday, November 5
Wayne Toups (Cajun/Zydeco/Folk/Americana at Parc International)
For more information, visit www.downtownlafayette.org/downtown-alive.