Sun-Thu | 6p-11p
Keith Sweat, legendary R&B singer, music producer and songwriter, is host of the nationally syndicated radio program The Sweat Hotel. Sweat brings his quiet storm of R&B and slow jamz to listeners nationwide. Broadcasting live from Atlanta, he welcomes special guests and features live in-studio musical performances, while also encouraging fans to call in with their confessions, apologies and dedications. The Sweat Hotel is the #1 nationally syndicated Urban AC evening radio show.
Born in Harlem, New York, Sweat originally worked for the commodities market at the New York Stock Exchange before his smooth, sultry voice was discovered singing at a nightclub in 1987. In November of the same year, he released his debut album, Make It Last Forever, which sold more than three million copies. On the R&B charts, "I Want Her"hit #1and the title track hit #2. His next album, I'll Give All My Love To You, hit #3 on the Billboard 200 chart, and Keep It Comin' debuted in the Top 20 on the album charts. Sweat released his fourth album Get Up On It in the summer of 1994 and followed with Keith Sweat in 1996, his self-titled fifth album which hit #5 on the Billboard 200 and gained quadruple platinum status. The single "Twisted"hit #2 on the Billboard Hot 100 and "Nobody" hit #3. In 2008, Sweat released Just Me, followed by Ridin' Solo in 2010. Til' the Morning debuted in 2011 via eOne Music, and the title track was the #1 most added at Urban AC radio the week of release. In July 2016, the American Music Award winner released his 12th studio album, Dress To Impress and the single "Good Love" reached the coveted #1 spot on the Urban AC National Airplay chart. Sweat's 13th studio album, "Playing For Keeps," was released on October 26, 2018, and it showcases 13 new songs including the lead single "How Many Ways" (featuring K-Ci) and "Boomerang" (featuring Candace Price), and collaborations with artists including Teddy Riley, Tank, Akon and Alkaline, among others.
After much success as a recording artist, Sweat ventured into the producing side of the business. In 1992, he discovered the group Silk and produced their debut album which resulted in a #1 hit, "Freak Me." In 1995, he repeated that success for R&B group, Kut Klose. Sweat then helped form his own super R&B group, LSG, with Gerald Levert and Johnny Gill in 1997. LSG released two albums that sold more than three million units and singles.
In addition, Sweat has produced numerous songs such as Men At Large's Don't Cry; Dru Hill's Love's Train and Share My World; Immature's Extra, Extra; Ol' Skool's Am I Dreaming; The Isley Brothers' Slow Is The Way; The O'Jays' Baby You Know (featuring Keith Sweat); and many more. For his work, Sweat was honored with the "Lifetime Achievement Award" at the 2013 Soul Train Awards.
In February 2007, Sweat signed a deal with Premiere Networks, the leading audio network in the U.S., to nationally syndicate The Sweat Hotel. The program is currently heard on more than 60 stations nationwide.
In 2010, Sweat made his mark on television with the Dru Hill reality show, Keith Sweat's Platinum House. Created and executive produced by Sweat, the TV show was shot as his home and studio in Atlanta, and yielded #1 ratings on Centric Television. Sweat also released a relationship book titled Make It Last Forever: The Do's and the Don'ts in 2012. In the book, Sweat provides advice on how to keep a relationship fresh and exciting, including tools on everything from how to communicate needs and desires more effectively to tips for mending and reinvigorating partnerships that have gone stale.
In 2017, Sweat completed two highly-successful Las Vegas Residencies at the Flamingo Las Vegas Hotel & Casino to rave reviews. He continues to tour, performing to sold-out crowds nationwide.
A renowned performer, recording artist, producer, Georgia Music Hall of Famer and father of four, Keith Sweat has nearly three decades in the soul business.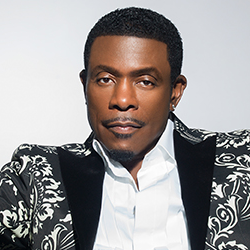 Sun-Thu | 6p-11p
---