Mon-Fri | 10a-2p
Stephanie Smallwood is a seasoned broadcaster who started her radio career in Lafayette, Louisiana at the local university's radio station, KRVS FM-88.7  (Back in the day, it was known as USL now it's the University of Louisiana at Lafayette.)
Stephanie brings more than 30 years broadcast experience in radio and television to her current position as Program Director/Music Director and Air Personality for Z-1059. Growing up on the radio in the Lafayette market, she considers the hub city and Southwest Louisiana Home.
Stephanie has a real passion for the music and culture of Louisiana and the issues that affect the lives of people from every walk of life.  She is a true southern girl being that she was born and raised in Alexandria, Louisiana.
Before returning to her first love: radio, Stephanie spent 14 years covering local news at KATC-TV3 Acadiana's News Channel.  She served as the News Assignment Editor, news and video producers.
Stephanie has a deep and undying love for the people and unique culture of Southwest Louisiana.  When talking about her career Stephanie says, "I love radio, I love music and I am so grateful to have had such longevity in a medium I love so much!"
Stephanie hosts the At Work Network on KFXZ  Z1059 Monday-Friday  from 9am-2pm.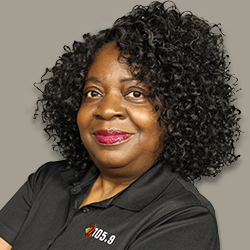 Mon-Fri | 10a-2p
---