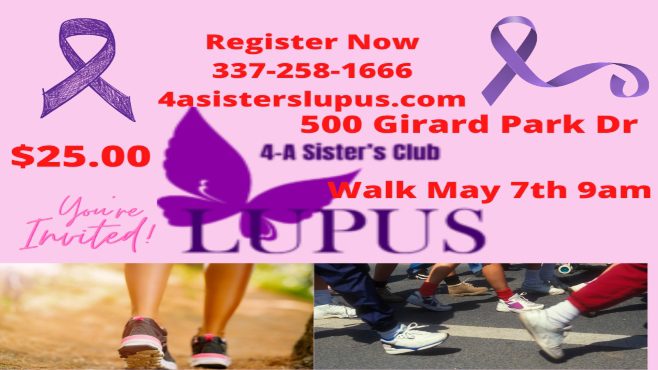 Lupus is a disease that occurs when your body's immune system attacks your own tissues and organs. It is an autoimmune disease. Inflammation caused by lupus can affect many different body systems — including your joints, skin, kidneys, blood cells, brain, heart and lungs.
The 4-A Sisters Lupus Club is planning a fundraising Lupus awareness event. The Inaugural End Lupus Walk is Saturday May 7, 2022 at Girard Park. The End Lupus Walk will include all the things we love here in Southwest Louisiana, music food and family fun, all for a good cause. The goal is to raise awareness on Lupus in Acadiana and reach out to those affected by this autoimmune disease.
Register and get more information or to participate as a vendor or sponsor at www.4asisterslupus.com or call 337-258-1666. The End Lupus walk will be an annual event.
4A's Sisters' Mission is to educate, provide awareness, support, and funding for medical treatments and or personal use to those affected by the LUPUS disease. The Andrus sisters loss both their moms (Dorothy and Leola Andrus) to LUPUS. It was then that they decided to take action in 2011 and form the 4-A's Sisters LUPUS Club.  4 A's came from their last name through their father, John Rogers Andrus.