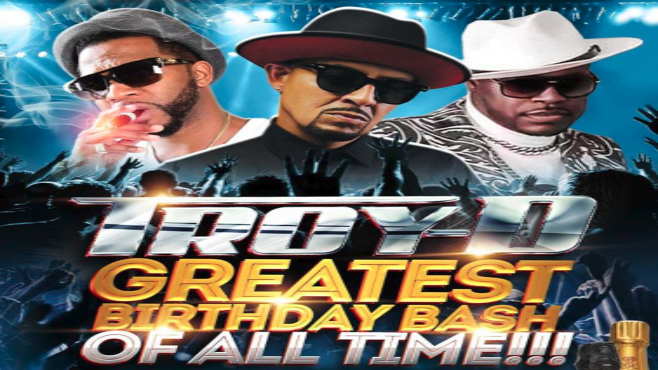 Dj Troy DeRouen aka Troy-D is now officially 50 years old. The half a century mark is a great reason to have the greatest birthday bash off all time.
Join Z1059, the King of Swing, Tucka James, Mr. MoHitz Roi Chip Anthony, Dj Troy D, all on one stage for one night only, Friday, March 13 at Mon Ami located at 7304 U.S. Highway 90 in Jeanerette, Louisiana. Don't miss this rare performance, because it may never go down like this ever again.
These guys are the ladies choice for the best Southern Soul. Be ready to swing and sing along to all Tucka's hot tracks and throwbacks Big Train, Book Of Love, Candyland, Sweet Tooth, and many more. Roi Chip Anthony is gonna bring Mo Hitz with Gonna Do Me, Going Back, Thickness, and so much more. It's going to be a night to wear out your dancing shoes. The party won't stop until you do.
Listen to The "Smooth Operator" D'Anthony from 6-10 am and Dj Stephanie "Spicy Cayanne" on the At Work Network from 10 am 2 pm to win your exclusive VIP tickets. You can buy your advance tickets at https://www.eventbrite.com/e/troy-d-birthday-bash-tickets-95501707177?aff=ebdssbeac Also get tickets IN NEW IBERIA: SHANNON JAMES(337)781-8314…JEANERETTE: TMAC/BARBERSHOP
ST.MARTINVILLE…JASON WILLIS/BARBERSHOP(337)394-7172 LAFAYETTE…PRISCILLA(PRISCILLA'S ALTERATIONS IN THE NORTHGATE) Hear all the action as Stephanie broadcast live on Z from Mon Ami Friday from 6-9 pm. See you there.