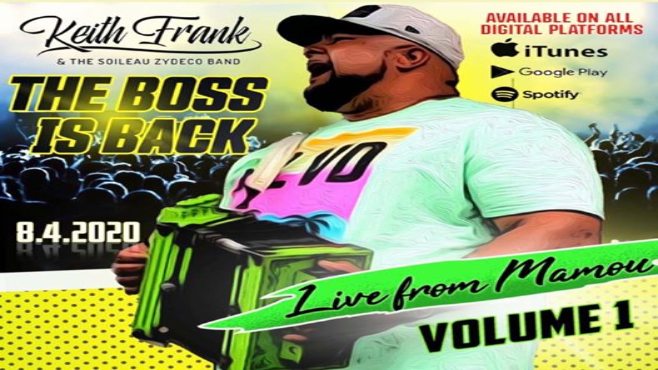 For 30 years Keith Frank has carried on his family's musical legacy with the Soileau Zydeco Band along with his sister Jennifer on Bass and his brother Brad on drums. Once again they are bringing that Soileau heat to move your feet.
This new release from the Zydeco Boss is just what we need to get through this pandemic: Live from Mamou Volume 1. It was recorded Labor Day Weekend 2019 at the Mamou Skating in Mamou, Louisiana during the "Contingency Plan" event.
It's no secret that Keith Frank will make you sweat so be prepared to dance from start to finish with this one. Live from Mamou is filled with 12 of the hits and classics we love to Zydeco to: Playa 4 Life, Casanova/Sexual Healing, Have Mercy, Don't Start No Sh#t and my personal favorite Do For Love/Angel with an Attitude, are just a few of the tracks.
We can't get together to dance and sing along now, so this album is the next best thing to being there live. Everyone is going to be moving to this one. We don't know when or where we will be able to enjoy Keith Frank & The Soileau Zydeco Band Live anytime soon, so until then buying the music is always a good way to show your support and appreciation for the Zydeco music we love. Add Live From Mamou to your pandemic playlist. For more on Keith Frank & The Soileau Zydeco band http://www.keithfrank.com