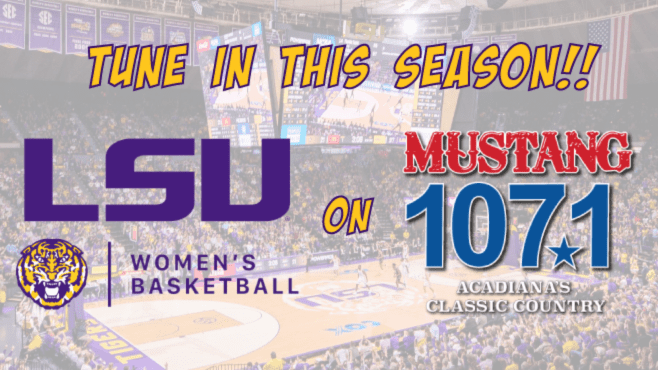 Acadiana's Classic Country Mustang 107.1 FM will soon serve as the home for the LSU women's basketball team.
From the season opener against Colorado in Las Vegas to highly anticipated Southeastern Conference tilts against Tennessee and South Carolina, every single contest of the defending national champions will be broadcast live on Mustang 107.1 FM.
"The LSU Sports Radio Network is excited to expand to 107.1 FM 'The Mustang' in the Lafayette market," said Director of Radio Broadcasting and Voice of the Tigers Chris Blair. "There's never been a better time to support our national championship LSU Women's Basketball program, and we're looking forward to providing our fans in Lafayette live radio broadcasts of every game of the 2023-24 season."
Naismith Hall of Fame coach Kim Mulkey's team will be looking to become the first team to win back-to-back national championships since Connecticut won four in a row from 2013 to 2016.
LSU will once again be loaded with top talent as Final Four Most Outstanding Player Angel Reese and SEC Freshman of the Year Flau'jae Johnson both return to anchor the roster. In addition, Mulkey has added All-Americans Hailey Van Lith (Louisville) and Aneesah Morrow (DePaul).
LSU is coming off a historic season in which the Tigers went 34-2 overall and capped the season with a 102-85 victory over Iowa in the title game in Dallas. Mulkey's team also became the first women's or men's basketball
program in LSU history to win a Final Four game, and a national championship.
The complete 2023-24 schedule will be released later this month.
About Mustang 107.1 – Mustang 107.1 is a locally owned and operated radio station featuring Outlaw Country, Classic Country and Southern Rock. Mustang 107.1 also features traditional Cajun French music Saturday mornings. Lafayette's most unique country station is owned and operated by Delta Media Corporation. All programming times can be found at
www.mustang1071.com.
About Delta Media – Delta Media Corporation is a locally owned and operated multi-media company with a non-traditional vision of combining radio, television and digital assets; creating greater opportunities for our clients and associates to grow. For more information www.deltamediacorp.com.