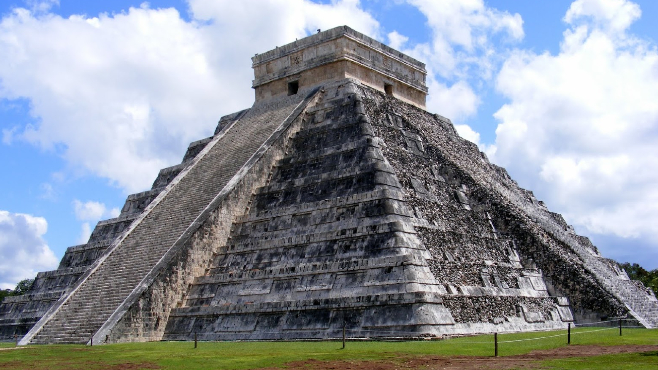 Do you remember when everyone was in a panic about the world ending because of an ancient Mayan prediction? The prediction "foretold" that the world would end on December 21, 2012, based on the ancient Mayan calendar… but obviously they were a little off. We are still here having this conversation, years after this alleged doomsday. But new research has suggested that the original date was miscalculated, and the ACTUAL date of the Mayan apocalypse is… this upcoming Sunday!
Don't start stockpiling toilet paper just yet (cause we all know toilet paper is the cure for any crisis!). Apparently scientists have incorrectly calculated the date multiple times, so this could be just another miscalculation… According to NASA, it comes from a story about a planet that was discovered by the Sumerians, that is allegedly headed toward Earth.
Because we use the Gregorian Calendar and not the Mayan calendar, the days don't accurately line up, some pretty complicated math is involved to pinpoint the exact date on our calendar that the Mayans were even talking about. It was initially predicted for May 2003, but when nothing happened the doomsday date was moved to December 2012. They linked it to the end of one of the cycles in the ancient Mayan calendar at the winter solstice in 2012, though no real evidence backed up the claim. As we can clearly see, the world did not end in 2012 either.
Now that we've hit 2020, and everything BUT the Mayan Apocalypse has happened… a Knoxville scientist Paolo Tagalougin tweeted his new prediction, with more complicated math, accounting for an 11 day per year discrepancy… which puts the new date happening this Sunday. Of course, he has since deleted the tweet in question, and now conspiracy theorists are claiming it's coming this week, while NASA disagrees with claim, as there is no real scientific evidence that supports doomsday happening this weekend.
Whether the date is correct or not… has anyone considered that maybe the Mayans really couldn't tell the future after all? Let's not forget the Y2K panic… and that one was predicted by people in our time.