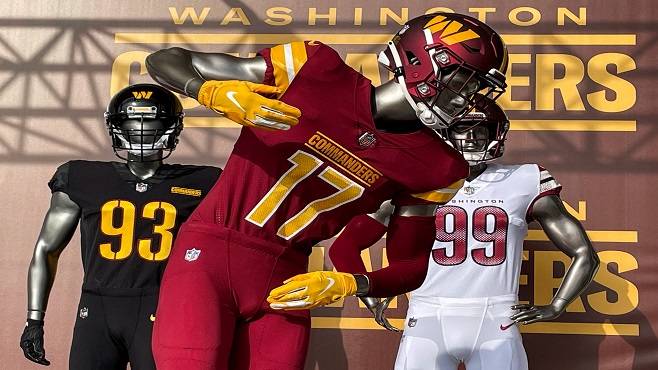 By: Rebeccah Biggar
It has been confirmed that Washington's NFL team is now called the Washington Commanders.

This news comes almost two years since the franchise dropped their old name "The Redskins" following criticism that it was offensive to Native Americans, as well as pressure from NFL sponsors.

"As an organization, we are excited to rally and rise together as one under our new identity while paying homage to our local roots and what it means to represent the nation's capital," said owner Dan Snyder.
"As we kick off our 90th season, it is important for our organization and fans to pay tribute to our past traditions, history, legacy, and the greats that came before us. We continue to honor and represent the Burgundy and Gold while forging a pathway to a new era in Washington."
As the Commanders, Washington will keep the same burgundy and gold colors that have been around since the team's glory days of the '80s and early '90s. It also follows the wishes of the team's president Jason Wright and coach Ron Rivera for the new name to have a connection to the U.S military.

The rebranding process had been going on since the summer of 2020 when the team officials decided on the temporary Washington Football Team name that carried on into the 2021 season.

The official announcement comes one day after the news was leaked by a local news helicopter, that when circling the stadium caught a large banner that read "Washington Commanders." Commanders were one of the eight final name possibilities.

Other names on the list were Admirals, Brigade, Armada, Presidents, Monuments, Redwolves, and Redhogs. The possibility of sticking with the Washington Football Team was also considered.
Source: KLFY