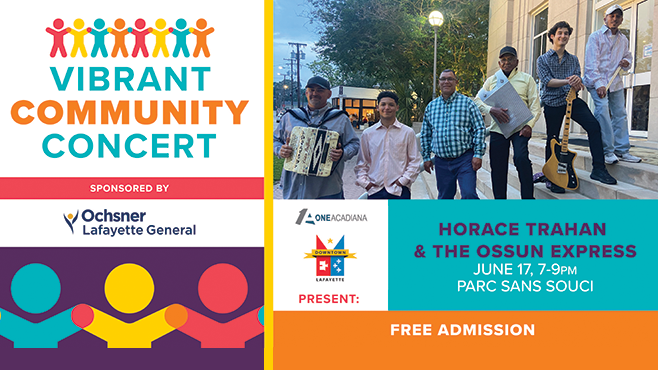 One Acadiana has partnered with Downtown Lafayette Unlimited (DLU) to bring you a live, community concert in the heart of Acadiana. The Vibrant Community Concert is scheduled for Thursday, June 17 in Parc Sans Souci, Downtown Lafayette. Live performance by Horace Trahan & The Ossun Express will kick off promptly at 7:00pm.
This evening celebration in Downtown Lafayette will welcome guests from across the Acadiana Region to celebrate the momentum that has been building in the region's core. Businesses and investors continued to make bold moves downtown in 2020, even amidst the challenges of the pandemic, which resulted in announcements of 31 new, expanded, or relocated businesses; completion of 54 residential units in two, new-build projects; and planning for a number of residential development projects that collectively aim to bring more than 200 units to the district.
This concert is a part of One Acadiana's Vibrant Community Summit (June 17-18). The two-day summit will dive into lessons that featured speaker, Quint Studer, has learned as a business leader in the healthcare sector and a transformational community leader in Pensacola, Fl., and it will explore how these lessons might be applicable to our own community.
"One Acadiana's goal is to attract investment and jobs to the region; creating a more vibrant downtown is a cornerstone of that work," said One Acadiana President & CEO Troy Wayman. "We are proud to bring community, business, and civic leaders back together through the Vibrant Community Summit and are excited to partner with DLU to bring the Vibrant Community Concert to life."
"When a community starts building a vibrant downtown, it gets people activated and sparks growth in the rest of the community," notes Quint Studer. "As citizens start seeing great buildings and new businesses, their enthusiasm builds. They want to see more growth. And they want to be part of it."
"We couldn't agree with Quint more – we see the momentum happening downtown as a catalyst for more investment in our city and region," said Anita Begnaud, CEO of the DDA and DLU. "We are also encouraged by the energy that activations are bringing to downtown's public spaces and can't wait to be with the community in Parc Sans Souci on June 17th!"
Admission is FREE for all ages. Beverages will also be available for purchase. Please leave your ice chests at home with your pets. Visit www.downtownlafayette.org for more event information.
To learn more about One Acadiana's Vibrant Community Summit please visit www.oneacadiana.org/vibrant.