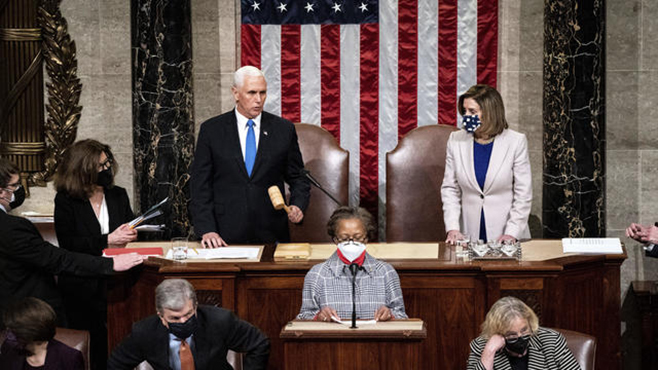 At 3:33 a.m., Joe Biden received 270 electoral votes. At 3:39, the count was finished. Senator Klobuchar read the results to a standing ovation from both sides of the aisle. The final results are 306-232 for Biden.

Vice President Mike Pence completed his duties and announced Mr. Biden as the winner just after 3:40 a.m. Senate Chaplain Barry Black closed out the session with a prayer in his sonorous tones.
President Trump issued a statement early Thursday after Congress affirmed President-elect Joe Biden's victory and it was announced by Vice President Mike Pence. Mr. Trump said that while he "totally disagrees with the outcome of the election, and the facts bear me out, nevertheless there will be an orderly transition on January 20th." Mr. Trump also vowed to keep fighting to make America great again. The statement was tweeted by White House senior official Dan Scavino, since Mr. Trump has been restricted from Twitter after his supporters stormed the U.S. Capitol on Wednesday.
Source: CBS Radio News