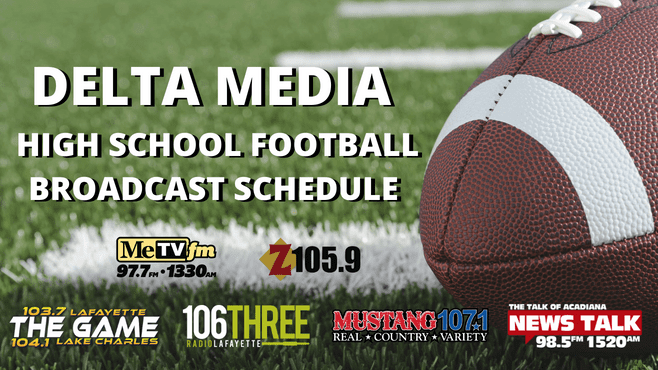 Delta Media Corporation will have thrilling high school football action on every week during the regular season.
St. Thomas More returns to The GAME 103.7 Lafayette while Barbe will be on The GAME 104.1 Lake Charles. Acadiana High is now 97.7 MeTv FM, Carencro is back on Z105.9 FM and Southside can be heard on Mustang 107.1 FM. The Vermilion Parish Game of the Week will once again be heard on 106.3 Radio Lafayette, and the St. Landry Parish Game of the Week is now on News Talk 98.5 FM.
Below is the broadcast schedule and scores for Delta Media's high school football games for the 2022 regular season.
WEEK ONE
THURSDAY 09-01
SOUTHSIDE SHARKS (Mustang 107.1 FM)
Notre Dame 21, Southside 13
FRIDAY 09-02
STM COUGARS (THE GAME 103.7 Lafayette)
STM 61, Comeaux 12
BARBE BUCCANEERS (THE GAME 104.1 Lake Charles)
Barbe 49, LaGrange 12
ACADIANA WRECKIN' RAMS (97.7 MeTV FM)
LCA 38, Acadiana 21
CARENCRO BEARS (Z105.9 FM)
Carencro 35, Alexandria Senior High 20
VERMILION PARISH GAME OF THE WEEK (106.3 Radio Lafayette)
N. Vermilion 13, Kaplan 12
ST. LANDRY PARISH GAME OF THE WEEK (News Talk 98.5 FM)
Oak Grove 53, Opelousas Catholic 18
WEEK TWO
THURSDAY 09-08
SOUTHSIDE SHARKS (Mustang 107.1 FM)
Southside 35, Cecilia 33
ST. LANDRY PARISH GAME OF THE WEEK (News Talk 98.5 FM)
Beau Chene 24, Port Barre 0
FRIDAY 09-09
STM COUGARS (THE GAME 103.7 Lafayette)
STM 43, ASH 35
BARBE BUCCANEERS (THE GAME 104.1 Lake Charles)
Carencro 50, Barbe 29
ACADIANA WRECKIN' RAMS (97.7 MeTV FM)
Acadiana 49, Sulphur 0
CARENCRO BEARS (Z105.9 FM)
Carencro 50, Barbe 29
VERMILION PARISH GAME OF THE WEEK (106.3 Radio Lafayette)
Gueydan 54, North Central 12
WEEK THREE
THURSDAY 09-15
ST. LANDRY PARISH GAME OF THE WEEK (News Talk 98.5 FM)
Opelousas Catholic 52, Port Barre 0
ACADIANA WRECKIN' RAMS (97.7 MeTV FM)
Acadiana 48, NISH 14
FRIDAY 09-16
STM COUGARS (THE GAME 103.7 Lafayette)
STM 30, Brother Martin 16
BARBE BUCCANEERS (THE GAME 104.1 Lake Charles)
Sam Houston 43, Barbe 42, DOUBLE OT
CARENCRO BEARS (Z105.9 FM)
Southside 49, Carencro 23
SOUTHSIDE SHARKS (Mustang 107.1 FM)
Southside 49, Carencro 23
VERMILION PARISH GAME OF THE WEEK (106.3 Radio Lafayette)
Abbeville 12, North Vermilion 7
WEEK FOUR
THURSDAY 09-22
ACADIANA WRECKIN' RAMS (97.7 MeTV FM)
Acadiana 55, Lafayette 6
FRIDAY 09-23
STM COUGARS (THE GAME 103.7 Lafayette)
STM 28, Catholic-BR 49
BARBE BUCCANEERS (THE GAME 104.1 Lake Charles)
Barbe 42, Pineville 0
CARENCRO BEARS (Z105.9 FM)
Carencro 43, Sulphur 0
SOUTHSIDE SHARKS (Mustang 107.1 FM)
Southside 37, NISH 7
VERMILION PARISH GAME OF THE WEEK (106.3 Radio Lafayette)
Vermilion Catholic 34, Erath 0
ST. LANDRY PARISH GAME OF THE WEEK (News Talk 98.5 FM)
Eunice 44, Northwest 20
WEEK FIVE
THURSDAY 09-29
VERMILION PARISH GAME OF THE WEEK (106.3 Radio Lafayette)
West St. Mary 6, Abbeville 56
FRIDAY 09-30
STM COUGARS (THE GAME 103.7 Lafayette)
STM 42, Denham Springs 21`
BARBE BUCCANEERS (THE GAME 104.1 Lake Charles)
Southside 30, Barbe 7
ACADIANA WRECKIN' RAMS (97.7 MeTV FM)
Acadiana 55, Comeaux 6
CARENCRO BEARS (Z105.9 FM)
Carencro 51, NISH 34
SOUTHSIDE SHARKS (Mustang 107.1 FM)
Southside 30, Barbe 7
ST. LANDRY PARISH GAME OF THE WEEK (News Talk 98.5 FM)
Opelousas High 56, Leesville 20
WEEK SIX
FRIDAY 10-07
STM COUGARS (THE GAME 103.7 Lafayette)
STM 42, North Vermilion 0
BARBE BUCCANEERS (THE GAME 104.1 Lake Charles)
Sulphur 29, Barbe 28
ACADIANA WRECKIN' RAMS (97.7 MeTV FM)
Acadiana 50, Sam Houston 16
CARENCRO BEARS (Z105.9 FM)
Carencro 40, Lafayette 30
SOUTHSIDE SHARKS (Mustang 107.1 FM)
Southside 42, Comeaux 6
VERMILION PARISH GAME OF THE WEEK (106.3 Radio Lafayette)
Franklin 41, Delcambre 10
ST. LANDRY PARISH GAME OF THE WEEK (News Talk 98.5 FM)
Opelousas Catholic 52, Westminster Christian Academy 0
WEEK SEVEN
THURSDAY 10-13
VERMILION PARISH GAME OF THE WEEK (106.3 Radio Lafayette)
Erath 37, Kaplan 22
FRIDAY 10-14
STM COUGARS (THE GAME 103.7 Lafayette)
STM 49. Northside 7
BARBE BUCCANEERS (THE GAME 104.1 Lake Charles)
Barbe 52, NISH 19
ACADIANA WRECKIN' RAMS (97.7 MeTV FM)
John Curtis 35, Acadiana 14
CARENCRO BEARS (Z105.9 FM)
Carencro 56, Comeaux 6
SOUTHSIDE SHARKS (Mustang 107.1 FM)
Sulphur 7, Southside 28
ST. LANDRY PARISH GAME OF THE WEEK (News Talk 98.5 FM)
Sacred Heart-VP 30 St. Edmund's 17
WEEK EIGHT
THURSDAY 10-20
BARBE BUCCANEERS (THE GAME 104.1 Lake Charles)
Barbe 40, Lafayette High 17
FRIDAY 10-21
STM COUGARS (THE GAME 103.7 Lafayette)
STM 35, Teurlings Catholic 30
ACADIANA WRECKIN' RAMS (97.7 MeTV FM)
Southside 22, Acadiana 7
CARENCRO BEARS (Z105.9 FM)
Carencro 72, Sam Houston 55
SOUTHSIDE SHARKS (Mustang 107.1 FM)
Southside 22, Acadiana 7
VERMILION PARISH GAME OF THE WEEK (106.3 Radio Lafayette)
Erath 31, Abbeville 21
ST. LANDRY PARISH GAME OF THE WEEK (News Talk 98.5 FM)
Opelousas Catholic 66, North Central 0
WEEK NINE
THURSDAY 10-27
ACADIANA WRECKIN' RAMS (97.7 MeTV FM)
Acadiana 21, Carencro 20
CARENCRO BEARS (Z105.9 FM)
Acadiana 21, Carencro 20
VERMILION PARISH GAME OF THE WEEK (106.3 Radio Lafayette)
Oberlin 43, Gueydan 7
ST. LANDRY PARISH GAME OF THE WEEK (News Talk 98.5 FM)
St. Edmund's 32, Westminster Christian 14
BARBE BUCCANEERS (THE GAME 104.1 Lake Charles)
Barbe 47, Comeaux 24
FRIDAY 10-28
STM COUGARS (THE GAME 103.7 Lafayette)
STM 42, Westgate 34
SOUTHSIDE SHARKS (Mustang 107.1 FM)
Southside 38, Lafayette 19
WEEK TEN
THURSDAY 11-03
SOUTHSIDE SHARKS (Mustang 107.1 FM)
Southside 49, Sam Houston 21
ST. LANDRY PARISH GAME OF THE WEEK (News Talk 98.5 FM)
Opelousas Catholic 60, St. Edmund 21
FRIDAY 11-04
STM COUGARS (THE GAME 103.7 Lafayette)
Lafayette Christian Academy at STM (Pregame 6:30, Kickoff 7)
BARBE BUCCANEERS (THE GAME 104.1 Lake Charles)
Acadiana at Barbe (Pregame 6:30, Kickoff 7)
ACADIANA WRECKIN' RAMS (97.7 MeTV FM)
Acadiana at Barbe (Pregame 6:30, Kickoff 7)
CARENCRO BEARS (Z105.9 FM)
BYE
VERMILION PARISH GAME OF THE WEEK (106.3 Radio Lafayette)
Abbeville at Kaplan (Pregame 6:45, Kickoff 7)