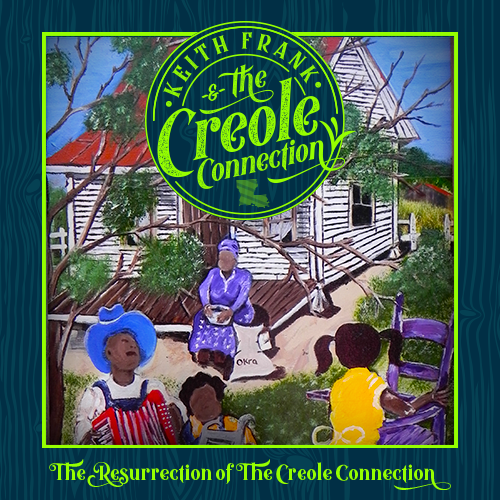 In case you missed it. Stephanie recently caught up with Keith Frank to talk about new music on the At Work Network on Z1059. Where the Z stands for Zydeco.
The Zydeco Boss Keith Frank is going back to his musical roots with his new release: The Resurrection of the Creole Connection. Back in the day Keith Frank created a new band, a creative alter ego, with the members of the Soileau Zydeco Band. It was The Creole Connection. This was done so they could play more traditional creole zydeco music. The Creole Connection released one album with 18 tracks and that was "The Masked Band." It was well received back in 2001. Now this resurrection in 2021 is a new creative remix of some of the tracks from the that album.
The Resurrection of the Creole Connection is 16 tracks with a combination of Creole French and English lyrics mixed with traditional creole instruments. Keith says it felt good to play these songs again with his brother Brad and his sister Jennifer. He says this project also brought back many fond memories of playing with his father Preston Frank and his late uncle Carlton Frank who was one of the last of the old time creole fiddlers. This album also features an never released track featuring his guitar player George Lee who died in 2020. Keith says he hopes fans will appreciate hearing some real creole zydeco music again. It's guaranteed to bring back memories and make you wanna dance.
These are the tracks on The Resurrection of The Creole Connection.
Chere ici chere la bas
La Valse de mon grand pere
La vie de George Lee.
Madeline
Not going down the road
Oh mom
Pine Tree two step
She's shaking her big ole butt
The Original Soileau Stomp
Taunte Delphine
The Resurrection of the creole connection
These old bones
Think of me
Went down to the river
What you gonna do
Why do you do all that