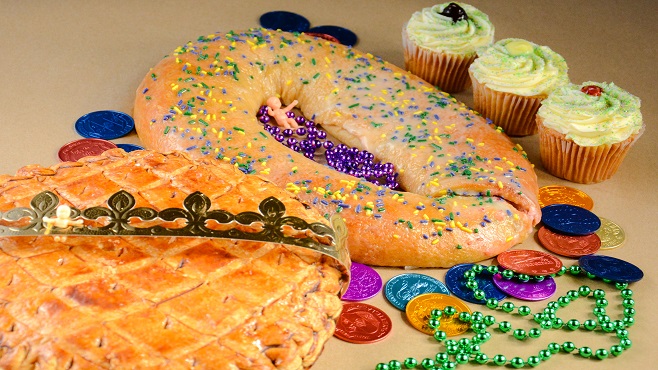 The pandemic has changed the way we celebrate Mardi Gras this year canceling parades, balls, and chicken runs. Although many of the crowded events will not be happening, the Mardi Gras season is here and still happening. This is the time before Lent. A time when most people celebrate and indulge in sweets. This is the season of the King Cake. The city of Lafayette is full of bakeries and shops offering their rendition of the sugary pastry.
According to legend, the King Cake has been around since the 12th century. The way the story goes is the cake was prepared on January 6th with a small gift tucked inside. In France, the cake was round and called galette des rois. Whoever was lucky enough to get the tiny gift inside their slice of cake would bestowed the honor of becoming royalty for that day.
The modern-day King Cake is oval-shaped and decorated with purple, green, and gold. The colors represent justice, faith, and power. Sometimes King Cakes are not sweet. In recent years, bakers have stuffed king cakes with boudin topped with syrup.
Lafayette Travel has put together a list of shops that sell and ship kings cakes. Check it out!
Ships
205 Rue Louis XIV, Lafayette, LA 70508
(337) 706-7970
1812 W. Pinhook Rd, Lafayette, LA 70508
(337) 504-4242
454 Heymann Blvd, Lafayette, LA 70503
(337) 235-4114
Ships
Various Locations (see below)
(337) 989-1700
Ships
3802 Johnston St., Lafayette, LA 70503
(337) 406-9066
Ships
854A Kaliste Saloom Rd., Lafayette, LA 70508
(337) 236-8966
444 Jefferson St, Lafayette, LA 70501
(337) 534-4639
1921 Kaliste Saloom Rd #111, Lafayette, LA 70508
(337) 534-8700
Ships
1012 Jefferson St., Lafayette, LA 70501
(337) 235-1568
Ships
306 E. Willow St., Lafayette, LA 70501
(337) 232-3782
402 Guilbeau Rd., Lafayette, LA 70506
(337) 981-4918
Ships
1902 W. Pinhook Rd., Lafayette, LA 70508
(337) 232-7921
1042 Camellia Blvd #6, Lafayette, LA 70508
(337) 889-5782
Ships
2605 Kaliste Saloom Rd., Lafayette, LA 70508
(337) 989-9909
2025 West Pinhook Rd., Lafayette, LA 70508
(337) 484-1000
101 Sabal Palms Row, Youngsville, LA 70592
(337) 856-5151
Ships
601 Bertrand Dr., Lafayette, LA 70506
(337) 889-0045
2900 E Milton Ave., Youngsville, LA 70592
(337) 362-2814
6136 Johnston St., Lafayette, LA 70503
(337) 889-0040
Ships
2801 Johnston St., Lafayette, LA 70503
(337) 268-9488
103 Centre Sarcelle Blvd., Youngsville, LA 70592
(337) 857-7225
6774 Johnston St., Lafayette, LA 70503
(337) 706-8033
Source: Lafayette Travel