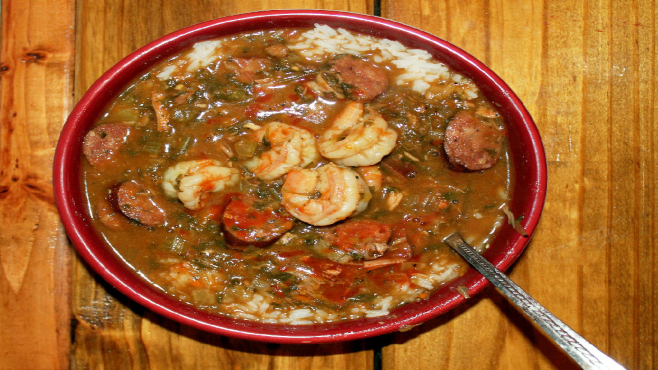 It is officially Gumbo Season here in Southwest Louisiana.  My favorite is Seafood Gumbo.  I love to eat it, hate to cook it.  It takes me at least 3 days to make a gumbo, this why I haven't made one in over 5 years.  It takes time for me to get it right.  I am also begging my close friends to make one big ole pot of seafood gumbo. No takers yet.
I have also learned over the years: that all Gumbo is not "Good Gumbo".   This is why I was happy to hear about the 8th Annual Charity Gumbo Cook-Off sponsored by the Shining Star Lodge #262 in Sunset.  It's all you can eat too. I am bringing my Louisiana hot sauce just in case I need it and my own special spoon. 
The "Cooking For A Cause Cook-Off"  is Saturday, November 9 from Noon to 8 pm, at the IFBS Lodge in Leonville.  I plan to eat my way through all the categories, Traditional, Chicken & Sausage, Smoke Meat, Shrimp, Seafood, Okra, Wild Game and more.  Awards will be given in each category: 1st, 2nd, 3rd, and Peoples Choice Award.  The entry fee is $60 per team. 
The entry fee is $60 per team. Admission is $5.00 for adults and $3.00 for children.  Senior Citizens and children 6 and under are admitted FREE.  The proceeds will be used to help families this holiday season, with gifts and food. 
For more information contact: Oscar Walker at 337-288-1330, Mark Collins at 337-230-5278 or Kendal Sylvester at 337-224-8550.